Industrial Controller
Objective: The client is a well established vendor in the industrial controls market. They were looking to upgrade an existing sensor technology to reduce cost and improve performance.
Result: Working with the client, Original Technology was able to leverage the client's existing ultrasonic measurement IP, and, by using newer technology, deliver a smaller, lower cost, more reliable and robust system. Combining analog and digital technology from Analog Devices, Linear Technology and Silicon Laboratories, Original Technology was able to develop a digitally controlled ultrasonic receiver and transmitter that allowed the sensor to automatically measure and compute fluid levels and interface layers within the fluid.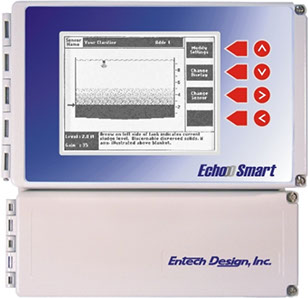 By simultaneously supporting both a ModBus and a proprietary protocol over a ZigBee radio link between the sensors and a central controller, Original Technology was able to greatly reduce total installation cost and provide a flexible system that could accommodate and automatically sense and provision from 1 to 128 sensors.
Original Technology developed an embedded controller based on NXP's LPC2400 ARM 7 microcontroller family to be used as the central controller for this network of sensors. The controller provided a combination of the following peripherals and features: AC/DC & DC/DC power supplies, LCD Display, Membrane Touch Panel, Ethernet I/O, USB, SDRAM, Flash Memory, 4-20mA output, HART Modem, Cellular interface, ZigBee Radio, ModBus, RS-232, RS-422 and RS485 Interfaces. The unit was designed to meet a wide variety of configurations and support multiple I/O communication standards. This was required to interface the unit to existing SCADA systems as well as support Internet connectivity for remote control, calibration, configuration and firmware update.